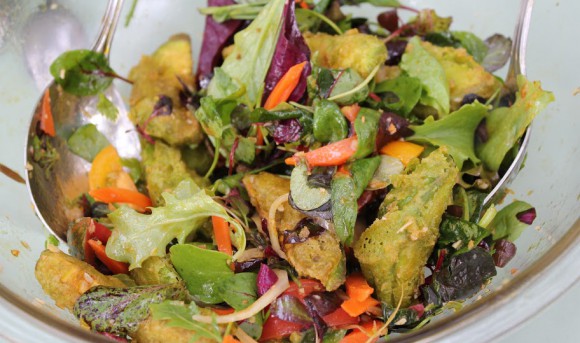 Fried Avocado Salad with Avocado Oil Dressing
Makes 4 servings
Avocado Oil Dressing:
½ teaspoon pureed garlic
1 teaspoon minced ginger
1 tablespoon minced fresh lemongrass
1 teaspoon salt
½ teaspoon chili powder
3 tablespoons avocado oil
2 tablespoons fresh lime juice
Mix all the ingredients together and set aside.
 2 cups plus 1 tablespoon rice bran oil
½ cup thinly sliced sweet onion
¼ cup self-rising flour
A tad less of ½ cup water
½ teaspoon salt
¼ teaspoon white pepper powder
1 slightly ripe large avocado
½ cup tender watercress
1 ½ cup micro greens such as butter lettuce
1 cup sliced cherry tomatoes
¼ cup Mexican pickled carrot (julienned)
10 mint leaves
Heat 1 tablespoon oil in a large skillet until hot. Add the onion and sauté until it turns translucent but is still crispy. Transfer to a plate to cool.
Mix the flour, water, salt and white pepper powder. The mixture should look like pancake batter.
Slice the avocado in half, lengthwise. Carefully peel off the skin and slice the avocado lengthwise into ½ inch wide pieces.
Heat the remaining 2 cups oil in a skillet.
Line a strainer with several folds of paper towels.
When the oil is hot, gently dip the avocado into the batter and carefully put it into the hot oil. Repeat with the remaining avocado. Try not to overcrowd the skillet to ensure even frying. When the pieces turn golden, transfer to the strainer lined with paper towels. Set aside.
Add the watercress, micro-greens, cherry tomatoes, pickled carrots, and onion to the salad bowl.
Slice the mint into slivers and garnish the top of the salad mixture.
Slice each piece of avocado in half and put them in with the salad.
When ready to serve, spoon the dressing over the salad and toss gently to mix.