Savor San Diego

with Su-Mei Yu, Owner and Chef
of Saffron Thai Restaurant

Join noted local cook, author and restaurant owner Su-Mei Yu as she explores and cooks her way around San Diego while sharing captivating tales of our culinary bounty.

Season 3, Premieres May 7, 2015
Watch Thursdays at 8:30pm & Saturdays
at 4:30pm on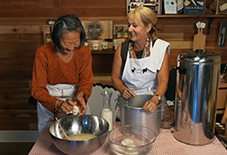 FOOD ARTISANS
Season 3, Episode 1
We'll visit local food artisans Prager Brother's Breads and artisan food shop Venissimo Cheese to highlight the passion, dedication and art behind these small food related businesses.
CONVOY DISTRICT
Season 3, Episode 2
Su-Mei will explore the burgeoning Asian community in the Convoy District. She'll visit key neighborhood restaurants, markets, and businesses...
LITTLE ITALY
Season 3, Episode 3
We'll highlight this neighborhood's rich history, evolution and many treasures. Su-Mei will visit Mona Lisa, one of the early neighborhood restaurants that's still around today...