Noel's Farm Salad with a Thai Touch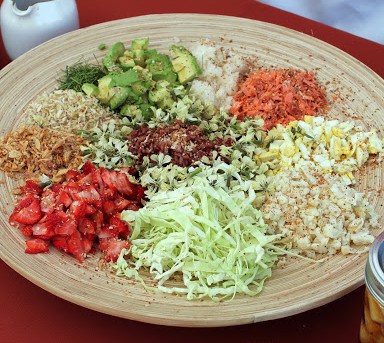 Serves 4 to 6
2 hard boiled eggs, chopped
½ cup chopped pickled garlic**
½ cup crispy kale, crushed into small flakes**
1 cup thinly slivered cabbage
1 cup arugula flower
1 lime, sliced into thin wedges with peel
1 cup red organic rice
1 avocado, sliced into small cubes
¼ cup crispy shallot
1 cup roasted cauliflower, thinly sliced**
1 teaspoon or more dried chili powder
½ cup shredded smoked salmon
1 lemongrass, minced
4 to 5 kaffir lime leaves, slivered
½ cup or more dressing**
2 to 3 lime, sliced
1. Make neat and decorative mounds of each of the ingredients except for the dressing on a large salad platter.
2. When ready to serve, mix all the ingredients together gently and drizzle the dressing over, mix again and serve immediately.
** Pickled garlic can be purchased in an Asian market

** Crispy Kale
5 to 6 kale leaves, washed and thoroughly dried
1 tablespoon or more olive oil
Dash of salt
Preheat the oven to 254 degrees F.
Remove the ribs from the kale and cut into 2 inches pieces.
Lay on a baking sheet and toss with olive oil and salt
Bake for 10 minutes, and then turn the leaves over the other side and bake for another 10 minutes or until crispy.
Cool completely before crushing into small flakes for the recipe.
** Roasted cauliflower
½ head of cauliflower, separate into small florets
Olive oil spray
Salt and pepper to taste
Preheat the oven to 400 degrees F.
Put the cauliflower in a mixing bowl and spray generously with olive oil spray.
Sprinkle salt and pepper to taste.
Bake for 15-20 minutes until the surface is brown.
Cool and sliced into very small florets for the recipe
** Dressing:
¾ cup anchovies packed in salt
1 cup water
1 cup palm sugar, firmly packed or dark brown sugar
6 shallots, peeled and slightly pounded
2 stalks lemongrass, tough outer layers removed, sliced into bite size pieces and pounded slightly
10 kaffir lime leaves
15 thinly sliced galangal, slightly pounded
Wash the salt off the anchovies and put in a medium saucepan.
Add the remaining ingredients and cook until it begins to boil. Lower the heat to medium and cook until the liquid clings to the side of the spoon, 15 to 20 minutes. Taste for balance of sweet and saltiness
Pour the dressing through a fine mesh strainer, discard the solids. Cool before using. If making ahead, refrigerate and re-heat to liquefy the dressing.